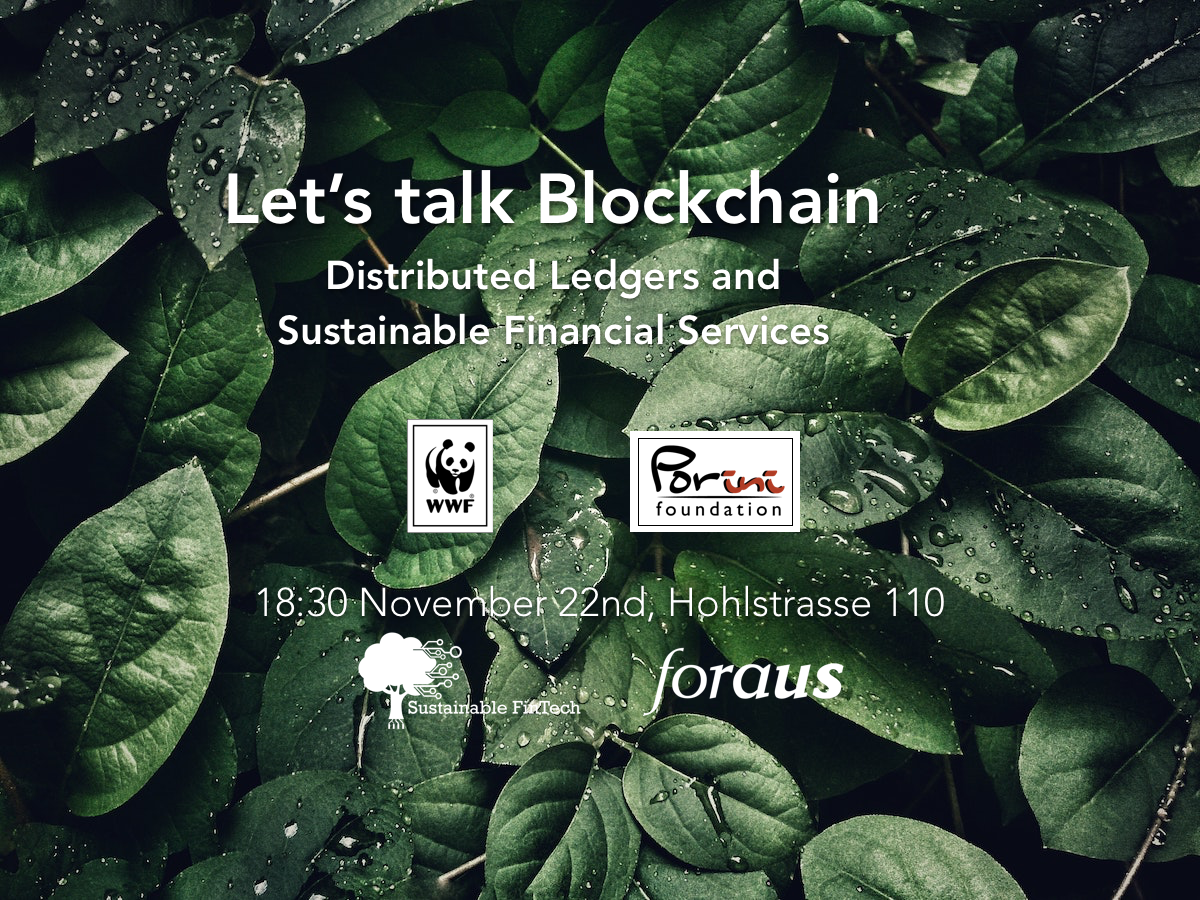 On Thursday, November 22nd our third Meetup took place at the headquarters of WWF Switzerland to talk about Blockchains and Distributed Ledger Technologies (DLTs) and their potential for sustainable financial services.
During his short introduction to Blockchains and DLTs, Fabian Steiner encouraged to think of Blockchains as a flexible toolbox, not a single static solution. He equally encouraged attendees to be critical in the assessment of their potential projects: Really think about use-cases and the aspects of DLTs that you need/are useful for the project at hand.
Fabian Steiner, Co-Lead of the Sustainable FinTech project and consultant at Fortae LLC, gave a short introduction to blockchains and DLTs
After a short introduction of our host WWF Switzerland and the six pillars on which their goals as an organization have their focus by Nico Frey, the responsible for Digital Transformation at WWF Switzerland Markus Steinbrecher presented some interesting use cases WWF is either working on or has knowledge of. They include:
A blockchain project by WWF New Zealand focused on transparent supply chains in the fishing industry
Solar energy trading via blockchain within a local network in Walen, Switzerland
Micro-transactions to offset carbon emissions on blockchain Ben & Jerry's, UK
The transfer of money to people in regions affected by crises directly through Bitcoin by the UN World Food Programme
Decentralized water quality measurements by Atlantic Data Chain
Use cases in circular Economy to incentivize full recycling of a product
Markus Steinbrecher, Digital Transformation at WWF Switzerland, speaks about the work and research of WWF in the field of blockchains / DLTs
Mr. Steinbrecher outlined some common problems many of these projects share, such as data quality, but remained optimistic about the potential these as of now limited pilot projects might provide in the future.
Roman Eyholzer and Toni Caradonna of the Porini foundation presented their approach to and work on the subject and how it relates to the United Nations Sustainable Development Goals.
They presented the Sustainability Chain Services: a blockchain built by the Porini Foundation that relies on a Proof of Authority consensus mechanism (and thus drastically reduces power consumption compared to Proof of Work systems such as Bitcoin).
Mr. Eyholzer and Mr. Caradonna presented use cases at CITES (Washington Treaty), IUCN Green List Standard and a project aimed at conservation of Bison that incentivises data collection.
Thank you all for attending and the lively debates that followed the presentations and continued during drinks until late in the evening.
See you at the next Meetup!