Author: Think Tank Hub
On January 26, 2021, the Think Tank Hub and the Sustainable FinTech project had the pleasure of welcoming four experts from three continents for a Think Tank Talk on financial technologies (FinTechs) and their potential for making the financial sector more sustainable and for contributing to achieving the SDGs.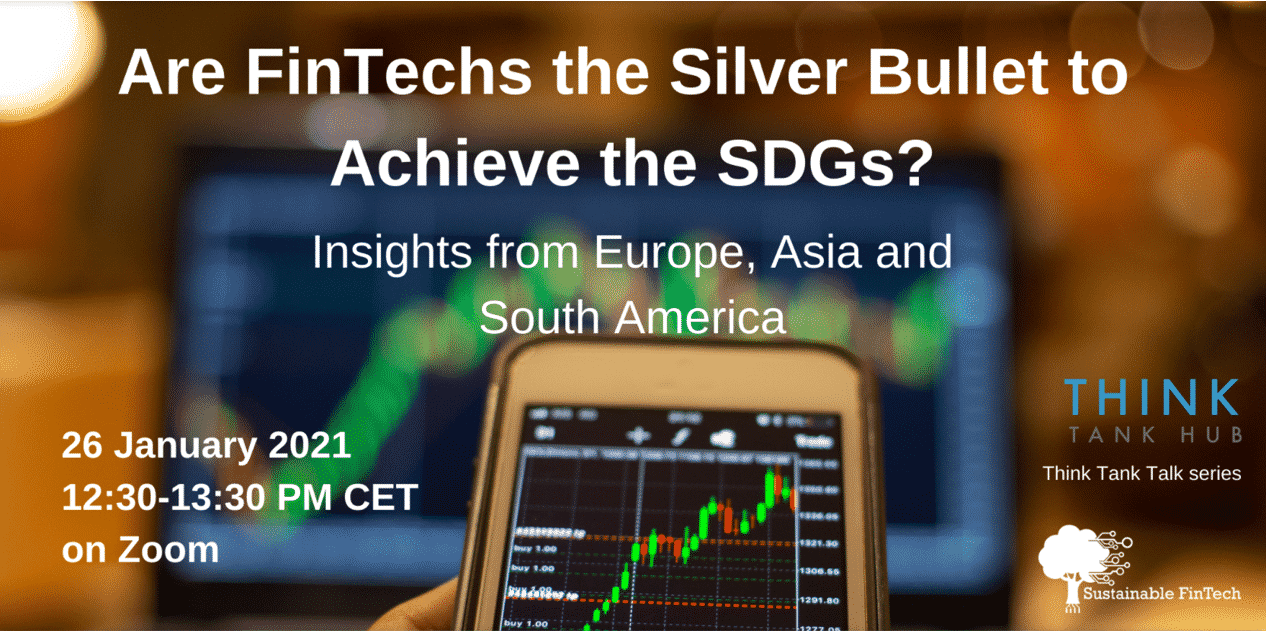 What is the potential of financial technologies (FinTechs) in regards to achieving the SDGs and making the financial sector more sustainable? This Think Tank Talk aimed to shed light on the question of how countries can enable a faster and more comprehensive mobilization of mainstream finance (private and institutional investors, as well as customers) towards the achievement of the Sustainable Development Goals (SDGs). By harnessing a more sustainable financial system, FinTechs contribute to finance the SDGs and the implementation of the Paris Agreement.
Aware of the different dynamics and approaches taken by countries to develop the field of Sustainable FinTechs, different questions were discussed, such as:
How have countries used financial technologies to address SDG issues and align their financial systems with the SDGs?

How have different countries taken advantage of the opportunities, as well as addressed the risks, related to digital sustainable finance?

What would be the regulatory and non-regulatory barriers to scale-up digital sustainable finance?

What is the role of researchers and think-tankers in the debate about digital sustainable finance?

5 Key Takeaways
1. As smartphone ownership is rapidly growing, digital applications, whose development has been accelerated by the Covid-19 pandemic, have proven to be an effective way to include vulnerable people into the banking system.
2. Digitalisation in the financial sector faces regulatory challenges, such as cybersecurity and data protection, as well as challenges pertaining to the lack of financial capacity in some developing countries.
3. Think tanks have a role to play in the development of sustainable financial technologies by monitoring progress made in other countries, providing up-to-date information to policymakers and encouraging new business models to emerge.
4. It is necessary to foster cooperation between private and public actors inside and between countries in order to share best practices and identify the needs of the population.
5. Sustainable fintechs and the financial industry can not achieve the SDGs alone. While they are a strong catalyst, they need to be accompanied by policies that make the inclusion of risks and costs possible and necessary for the financial sector.
Event replay